I started with a really clean good running car. My goal is to fix it up to a level that will allow me to show it (amateur - daily driver - for fun) and possibly to SCCA race it. There is an "all welcome" car show every Saturday night at the Pavillions of Scottsdale. I used to show my Honda CB550 there. There are usually 100+ vehicles being displayed. I'd bet atleast 1,000 people attend weekly. It's a fun place to show off what ever your driving.
Below you'll find pic's and info about the car. On the left border you'll find "CONTACT ME", just click there and fill out the form if you have any questions. I'll be updating the page as I get things done on the car.
*NEW 15x6.5 wheels w/ Kumho 712 (195/45/15) tires are on the car. YEAH!!!! scroll down for pics.
(Click on images for larger view)
OK, here it is
it's fun to drive
not much bigger than a go-cart
front strut brace (early engine pic)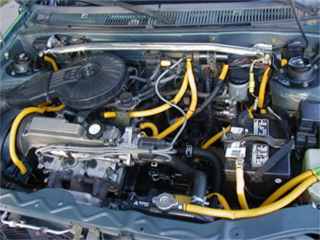 rear strut brace
Pic's after install of Intrax Springs...
It handles so much better
and it rides nicer too
---
MagStar Racing Wires
these are Very Cool !!!
---
As you can see I've already done some work on the car, you can see a list of all I have on it and where it all came from - HERE.

Here it is... Plenum and intake installed... working great and looking really good too... (if I do say so)
Custom Airbox & Filter setup
It just keeps getting better!
Wheels & Tires on the car...
Primax Wheels....
Kumho Tires.....
Look'n Fine....
Things I still plan/hope to do:

Install an aluminum rear deck wing.

Install Corbeau Seats and Harnesses.

Install new carpet.

Install custom roll bar/cage.

If and when I manage to acquire these items and
get them installed, I'll add images to this page.
* Items in yellow are clickable links, use browser back button to return.